By Ewdc
/
December 26th, 2016
/
Posted in Ecommerce
In just a month, almost 86% of India's currency circulation turned into worthless paper, eCommerce giants, mobile wallets and technology firms that provides alternate payment methods (digital payments) has seen a heavy surge in their revenue!
Demonetization is a big deal for the country that pays cash for 78% of customer payments in 2015.
Because of demonetization people turned to digital payments to avoid waiting in long queue outside banks or empty ATMs.
Biggest Gainers:
Mobile Wallets & FinTech Firms:
Online Mobile Wallets seems to be the biggest gainers as they offer ease of transactions via digital instead of cash. In addition to people who are getting into digital wallets, the digital payment firms gave good deals and tempting offers in order to drag people's attention!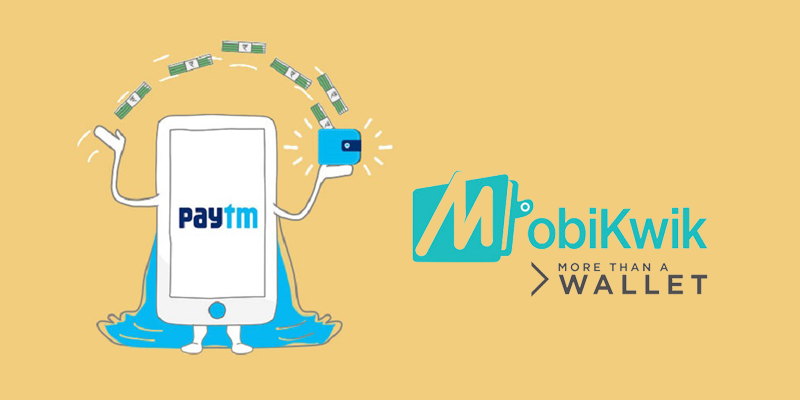 For example, Paytm saw 7 fold rise in its online traffic and 300% increase in its app downloads and 10x boost in money added to user accounts and on the whole they company saw the no. of transactions were doubled 5 Million in a day!
Paytm's rival MobiKwik also saw app installs increase by 4x and the wallets are getting filled with 20x increase in money.
However, online wallets are becoming competitive and at the present banks are putting in their efforts to develop their own digital wallets as the country is going cashless.
eCommerce Companies:
This digital move is going to bring a sea of change in the way transactions are done in Indian eCommerce. Though eCommerce companies that see a chunk of payments that are happening through cash on delivery (COD) will face some challenges, moving digital will only bring positive changes in the long run says CEO of Craftsvilla!
Demonetization is boosting up the economy of eCommerce market as people started to rely on debit/credit cards and digital payments for even small purchases! In fact few online retailers like Amazon & Flipkart started having their delivery executives to carry point of sale (PoS) machines to allow customer swipe their cards to receive products.
Other alternative online payment systems that were linked to eCommerce businesses like FreeCharge, OlaMoney, Flipkart Wallet also saw jump in money added to their accounts soon after the demonetization was announced.
How Offline Retailers can play Digital Card with the impact of Demonetization?
To face the present cash transaction challenges, small shop and whole-sale retailers are moving away from cash and getting quick into the digital payment solutions to avoid obstacles of purchasing goods.
In addition to this we are also seeing many offline retailers extending their stores online and continue digital payments in order to make easy transaction on the go while keeping it easy for their customers to shop things online and going cashless!
In the near future, eCommerce companies will see steady growth because of the increase in demand of goods as higher number of consumers will use plastic money or online transfer to make shopping and payment.
Here is how retail firms are tackling the situation:
Mr. Upasana Taku, co-founder of MobiKwik says "With this policy change, we expect a 10x impact; we expect to easily hit $10 billion in payments volume by 2017. Indian users do a trillion US dollars' worth of payments annually, of which more than 90% are in cash. We were earlier trending to process $1 billion payments by 2017".
Mr. Manish Kumar CFO of Panasonic says "our customers can now upgrade to a niftier, cashless, e-commerce, option to overcome current situation".
Mr. Patel of CC Avenue says they saw 40% jump in the overall volume of transactions after demonetization was announced. "Good time for all of us. Lot of people have for the first time come online. From the economy part, all is good but on the payments side, a lot needs to be done by the banks and other parties," he added.
Final Thoughts:
Though the bigger picture is not clear, demonetisation is a ground breaking move for our country and this will lead to one of the major ripple effects in its economy!
In few years or so, India will be named a world-class digital payment market as dreamt by hon'ble P.M. of India, Narendra Modi who said "I dream of a digital India where mobile and e-banking ensures financial inclusion" as an integral part of his vision of Digital India.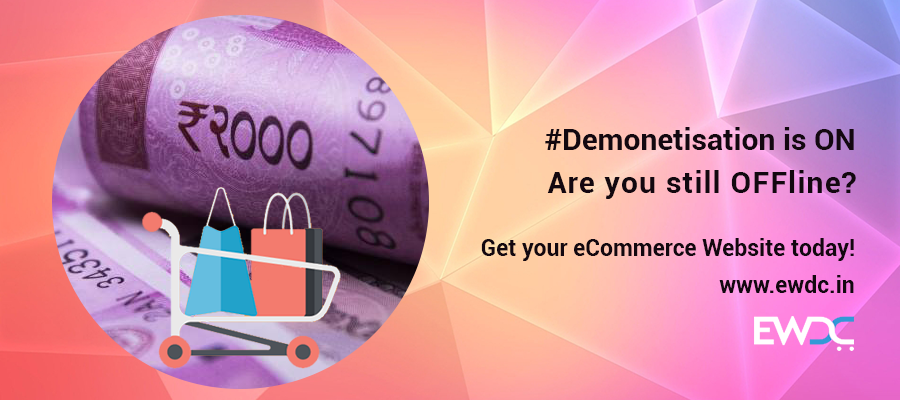 Hence, this is the golden triangle period for offline retailers to jump online and start accepting digital payments in order to go door to door anyways!
Are you a retailer and looking to build an online store?
It's the right time to boost your sales! Get online, sell online & go digital!
Take a bold move now! Get in touch with us today.